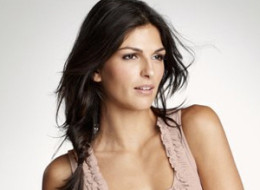 ugh...this is sooo frustrating. the clothes & model looked great before. i love fashion, but this is an aspect that infuriates me. i wish that girls [& guys] were automatically born with an "i'm great as i am" self confidence injection, but it just isn't so. there's a difference between changing your looks & style often to blend in with more recent trends, etc vs. changing everything to make others like you & approve.
too many [especially younger] people out there have serious self-confidence issues. this same type of airbrushing happens on shows in addition to magazines, consistently. but unfortunately, far too many of us never think about that & far too many of those without self-confidence will berate themselves because they can never seem to loose the weight, etc like these catalogs/ magazines/ shows...
beauty is not just about looking the part. the looking part takes a lot of hard work with a lot of help in the professional arena. a big portion of that beauty shines out because someone feels beautiful. self confidence.
when you're sporting a great outfit that you just bought & you're modeling in front of the mirror for a test drive, don't you just feel better? the bride is glowing...
all dressed up, happy + loving event = feeling better about yourself = self confidence = beautiful.
-kat.
Read the Article at HuffingtonPost